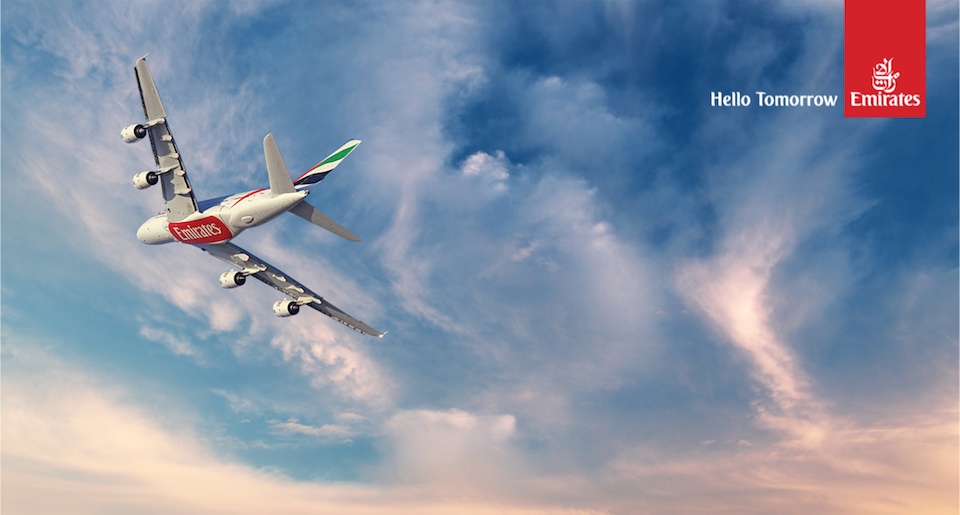 WELCOME ABOARD!
In 2015, Emirates was the fastest growing airline in the world, welcoming aboard some 50 million passengers across 80 countries. That growth led to unforeseen problems that compromised the airline's reputational core.
I was part of an ambitious project to redesign the future passenger experience for the fourth biggest airline in the world.
Please note, I have omitted and obfuscated confidential information in this outline. All information is my own and does not necessarily reflect the views of Emirates Airline. 
***
EXECUTIVE SUMMARY
This case study examines how we conducted extensive research and leveraged design principles to get buy-in to our passenger experience redesign.
After Emirates historic 30-year growth plateaued in 2015, initial research revealed that our five-star brand reputation had compromised. We found that for the majority of our customers, flying was not pleasurable and that there was very little memorable about the experience. A deeper look uncovered how our own staff was contributing to this based on shortcomings in the technology and resources (including rules) they had available to them. To align the broad range of teams that touched our passenger experience, we set five foundational themes:
Empowerment

Experience
Health
Connectivity
Humanity
We distilled our design principles into a new metric called experience score. With these foundational elements in place, we set out to co-create a holistic brand experience that would recapture the childlike magic of flight.
While the majority of impact from our 2020 Experience project will be revealed later, an analysis one year out gives signals that the redesign is off to a successful start:
Passenger experience scores have increased by 12%
Customer complaints have decreased by 9%
Flown passengers and net profits increased by 8% and 7% respectively

***
DESIGN FOR GROWTH
In just 30 years since its inception, Emirates had become the fourth-largest international airline in the world. This growth was exponential; annual passengers and revenue doubled between 2010 and 2015. Midway through 2015, that revenue growth screeched to a halt.
Once regarded as perhaps the most luxurious airline in the sky, it had become clear that Emirates' sharp growth was putting a strain on customer satisfaction levels and starting to impact the bottom line. Apathy was growing. Technology was fragmented. Personalization was gone.
Flying had become a necessary evil.
***
THE CHALLENGE
RECAPTURE THE MAGIC OF FLIGHT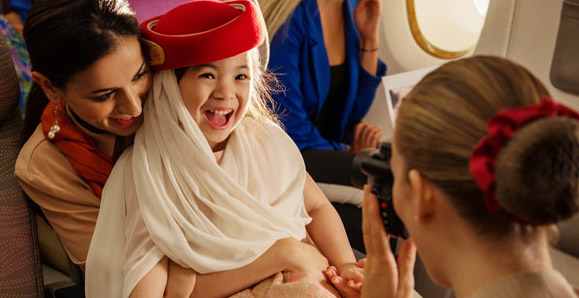 Our goal for the project was to make flying exciting again, like the first time a child steps onto a plane. The original premise was simple: optimize every step of a passenger's experience with us.  We weren't trying to recreate a simpler past, but rather to create a strong foundation that embraced a rapidly evolving business and more complex customer base.
Our high level ambitions were to:
Map out a target customer journey for 2020 to inform and prioritize service & technology development.
Future-proof any near-term development.
Develop the necessary skills and capabilities of the Emirates team.
***
MY ROLE
I guided the strategic design of the holistic passenger experience. The project kicked off in December 2015 and I was involved through August 2016, when we handed the project off for execution.
My specific responsibilities were to co-define the research plan, synthesize data gathered to uncover key opportunities and define final recommendations. I worked alongside a third-party research team, 3 product managers (who focused on technical feasibility) and a visual artist to put our ideas tangibly together.
***
KICKOFF
OBLITERATING THE ORG CHART
When we began, we didn't have a specific passenger experience in mind. Instead, we wanted to clear our minds of any pre-existing biases and assumptions, so I partnered with a small research team from Engine Group to learn how our passengers (and later, staff) were experiencing Emirates.

***
EARLY INSIGHTS FROM THE AIRPORT
We first spoke to a random mix of passengers in our Dubai hub, aiming to cover our full range of passengers from frequent business travelers to first-time flyers.  We wanted to understand each step of their experience with us as thoroughly as possible.
1: EVERYTHING IS OK, SORT OF.
We found a high degree of complacency amongst passengers—even our frequent premium passengers who got to see the best of our offering. Many were apathetic regarding Emirates' service and just 'took it as it is,' a reflection of their attitudes to flying in general.
2: INCONSISTENCIES CAN BE CONFUSING.
Passengers found it difficult to orientate themselves throughout the journey, with varying (and seemingly random) systems, processes, service and information. Help was difficult to find, particularly when language barriers existed.
3: ONE SIZE FITS NONE.
The passenger experience was quite generic with little opportunity to personalize and tweak things to suit individual needs.
4: SIZE *DOES NOT* MATTERS
.
Emirates' fleet of massive new aircraft were branded and regarded internally as a premium product, but scale of operations and growth rates had an effect on service levels. Quite simply, our passengers weren't as enthralled with our massive A380 airplanes as we were.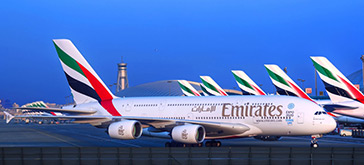 ***
THE DISCOVERY
PASSENGERS EXPECT TO BE UNDERSTOOD
I was surprised at the volume of issues we uncovered. While some could have been expected from premium passengers ("first-world problems"), in fact we had a major disconnect between our self-perception and that experienced by a wide range of audiences. What became clear was that while luxury isn't always necessarily expected, the ability to be understood is, and that's where we seemed to be missing the mark.
"What became clear was that while luxury isn't always necessarily expected, the ability to be understood is."
And if our premium passengers today—with expensive champagne in lay-flat seats—were feeling gaps in our experience, how much was there to improve for our novice economy travelers (who are destined become to premium passengers of tomorrow)? Thinking about this raised more questions than answers, but did provide us with an opportunity to envision a seamless, intuitive experience for every traveler. This is where we set our sights.
We put together storyboards from our airport interviews with pictures and names to serve as a constant reminder of the real people we would be designing for. We also visualized word clouds with some of the frequent issues that came up around the concepts of "breakers," "needs" and "weaknesses."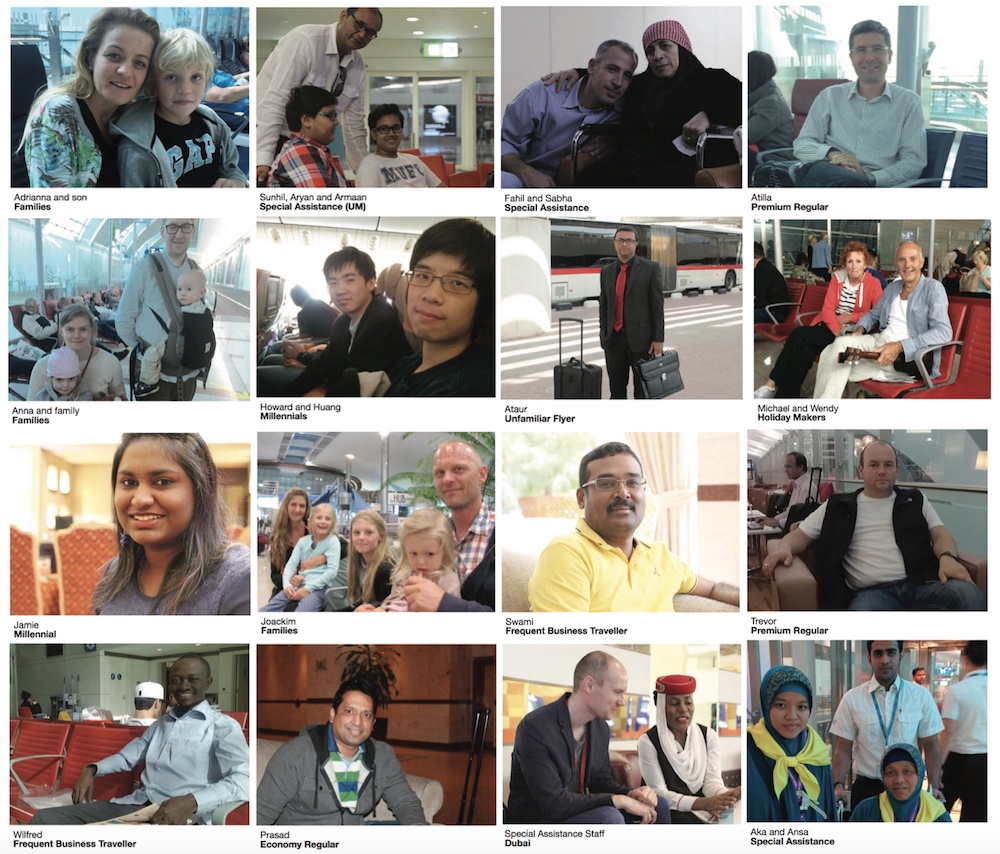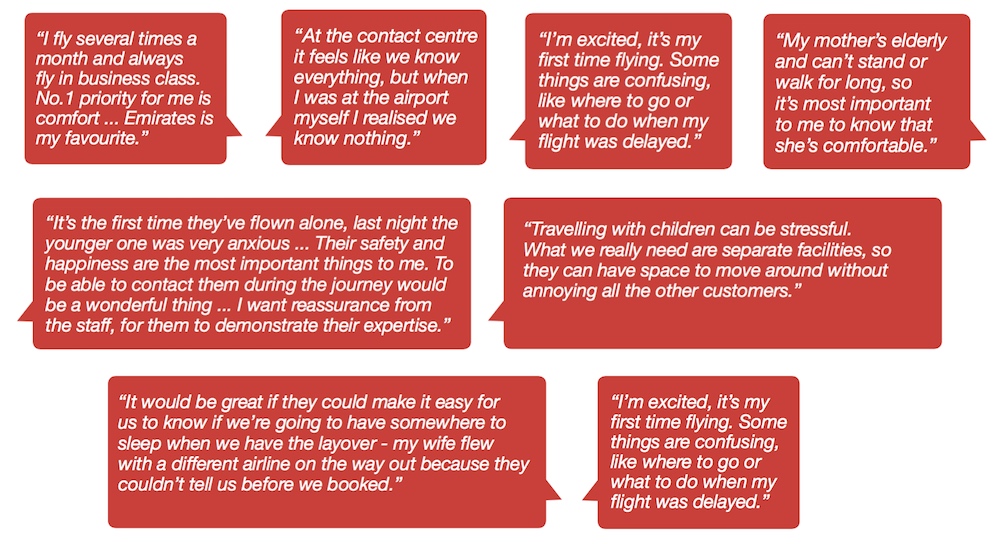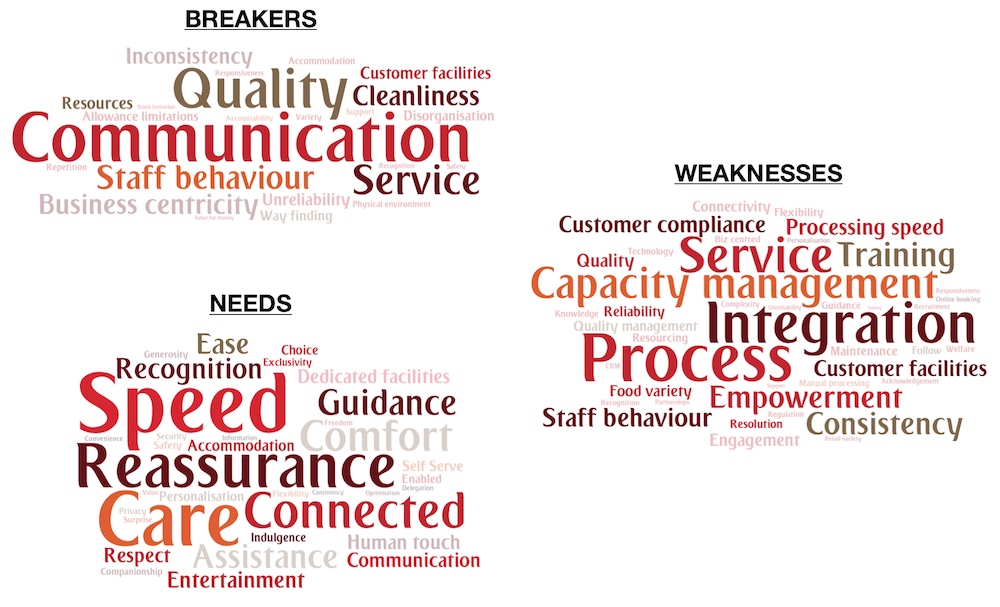 ***
DEEPER INSIGHTS
STARING INTO THE FUTURE
Imagining the perfect passenger experience of the future is all well and good, but before jumping into the ideation stages it was important to clearly define exactly what we were optimizing for. As Peter Drucker said, "what gets measured gets managed," so it was important to have agreed-upon metrics in place.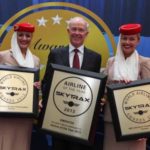 Prior to this project, non-scientific third-party awards like Skytrax were the only proxy we had to determine the level of service experience we achieved relative to competitors. 
The holistic ambition of this project made it difficult to create a primary metric as scientific as I would have liked, but I introduced a comprehensive experience score to determine satisfaction levels at various stages of a trip. After some debate, we agreed on a 0-10 scale, with 5 being a line of indifference.
I partnered with our research team (including their data scientist) to give us a baseline experience score around the world and across our various passenger segments.

***
MOST JOURNEYS ARE A DISJOINTED EXPERIENCE
Digging into the data around passenger experience was very telling. Most passengers felt a series of disjointed interactions rather than a singular intuitive experience. We were strongest where we had the most controlled environment—in-flight service—but significantly weaker at other parts of the journey. 
And not surprisingly, these less controlled stages—where potential disruptions abound—often have the biggest impact on a traveler's experience. We also found that, outside of the highly controlled in-flight experience, passengers were frequently most annoyed when dealing with our staff.
REFRAMING THE PROBLEM
A POOR STAFF EXPERIENCE IS A POOR PASSENGER EXPERIENCE
In order to fully understand the problems our passengers faced, we decided it was prudent to get staff input as well. As such, we went through a similar research process with staff ranging from call centers, airport check-in, special assistance staff, lounge attendants and even chauffer drivers. 

This research revealed that experiential problems for staff were one of the biggest causes of passenger frustration. In other words, our own staff were not causing any passenger frustration through any fault of their own, but they were actually "victims" of some unexpected problems themselves.
***
THE SYSTEM IS DOWN
Inconsistent system performance had a significant impact on service levels staff can provide. 
I DON'T HAVE THE INFORMATION/RESOURCES I NEED
Staff were frequently unable to resolve customer problems because they lacked access to necessary information or had sufficient support.
IT'S AGAINST OUR POLICY
Rigid policies and unempowered staff were huge friction points and often prevented staff from providing positive passenger experiences.
***
THE EXPERIENCE REDESIGN
INTRODUCING THE 2020 PASSENGER EXPERIENCE

In an age with ever-increasing competition for time and attention, Emirates aims to simplify your travel experience by making it intuitive, integrated and effortless. We set out to make sensible decisions on behalf of passengers to improve their experience while providing consistent, easy-to-digest information. 
We set the following themes as a foundation:
1: EMPOWERMENT
People expect to be able to shape their own experience and feel like their voice is heard. As such, it is critical to facilitate conversations with people to build engaging and lasting relationships. Future customers will buy into experiences that offer them more control and opportunities to co-create rather than those that offer a one-size-fits-all approach.
2: EXPERIENCE
People are looking for more authentic, memorable and enriching experiences. They expect to learn new things, be inspired by brands they associate with and be seen more for what they do than what they own.
3: HEALTH
People will be increasingly health-conscious, concerned about their environment, what they eat, where things come from, keeping fit and living longer. They will expect brands to support these needs in a growing variety of ways. From the quantified self to a deeper understanding of the importance of sleep, people's decisions will be shaped more than ever by impacts on their health and well-being.
4: CONNECTIVITY
People will increasingly need to stay in touch with the people and things that are important to them. Digital connectivity will become a minimum expectation and customers will expect cohesive experiences across the physical and digital world. Transactional interactions will increasingly become passive and autonomous creating frictionless experiences that fade into the background.
5: HUMANITY
People are searching for a more human touch and to reconnect physically with others. They will look to technology to connect and augment conversations between communities and bring people together in meaningful new ways.
***
HOW WE GOT THERE
PERFECTING THE TRAVEL EXPERIENCE FOR EVERYONE, EVERYWHERE
The biggest challenge I faced throughout this project was balancing progressing with our ideas while collaborating with the wider team. Since the project touched so many teams who interact with our passengers at some point, I needed to get buy-in from stakeholders with a diverse set of interests. Needless to say, this was not easy.
Managing feedback was just as challenging because of the vast array of viewpoints and opinions. We spent a great deal of time debating experience design decisions without hard data to inform one viewpoint vs. another.
This led to tension, frustration and a growing skepticism for our aspired focus of passenger centricity.
I sensed this early on, and as such invested time into creating documentation as a constant reminder of agreed-upon objectives and rationale. This was time-consuming, but ultimately shielded the team from endless debates in the end.
Shared objectives and design principles created visibility into our decision-making process and prioritization, and helped galvanize the team to work together.
***
THE FRAMEWORK
RAISING THE BAR
In setting our aspirations, it was important that all stakeholders completely bought into our need to improve—even those presiding over current strengths. As we aimed to improve the traveler experience, it also meant that our minimum expectation (our line of indifference) would be higher as well.
We agreed that each area would aspire to reach the same improvement—we could "compete" around our delta rather than our overall score to keep everyone focused and supportive.
***
GOOD OL' ROUTE 66
A technique we used to generate experience ideas was the concept of reverse polarity, where you start backwards from terrible to unlock new ideas.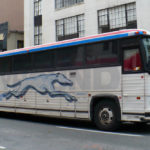 I drew from personal experience to imagine the worst possible perception of flying Emirates to be akin to long distance bus travel in the United States (if you've ever taken Greyhound, you'll understand). Through this frame of reference, I identified the worst possible traits of bus travel to create a fresh way of generating (opposite) new ideas.
One thing I did not expect from this exercise was to see how eerily similar the "bus" list was to some of our passenger feedback of their experience flying with Emirates. That served as a wake-up call to the team to reiterate the importance of our task at hand.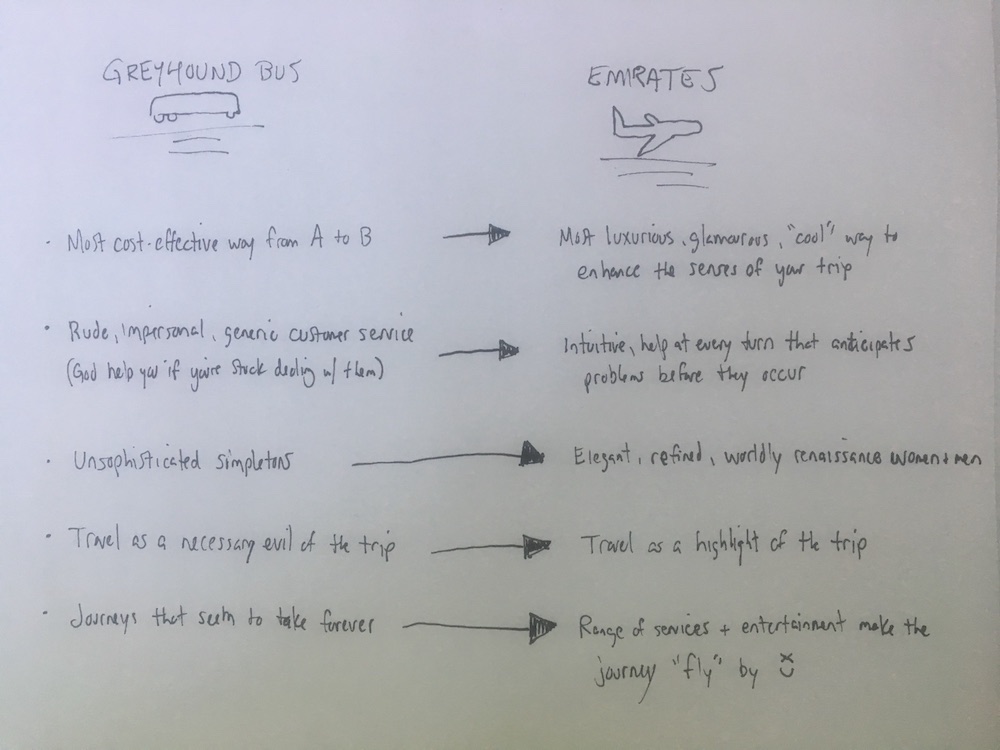 ***
DETAILED DESIGN
COMMUNICATING OUR VISION
Emirates is as famous for its complex, hierarchical work environment as it is for the high standards of travel it produces. This means that getting top-level buy-in requires clear, well-structured documentation (and great patience).
The scope of this project and structured waterfall approach meant that we needed to have everything figured out before teams would commit to moving forward with the work. Many teams involved needed to see a tangible document in order to consume the ideas and get fully behind them.
Our process involved sketching and whiteboarding concepts and flows and translating these into design comps, as follows: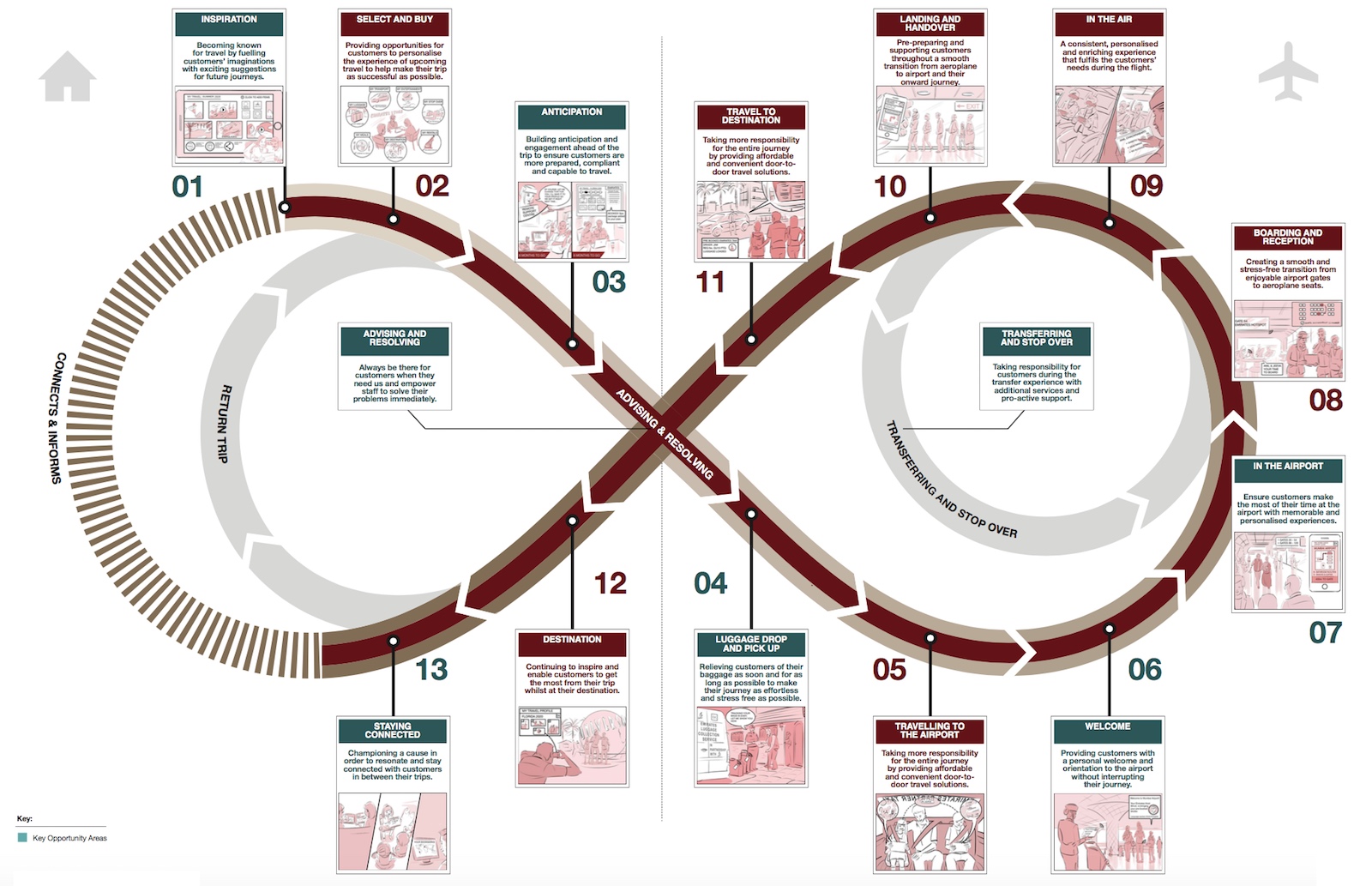 ***
THE FUTURE TARGET EXPERIENCE
Our final deliverable was a detailed plan geared around the full Emirates traveler experience, in a lifecycle style model.
STAGE 1: INSPIRATION
Goal: Own the holistic travel cycle by fueling customers' imaginations and stimulating their senses.
KEY EXPERIENCE POINTS

EXAMPLES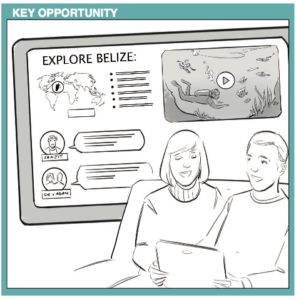 Emirates Connect: Connecting customers to customers and staff to customers based on shared interests, language and past experiences with the aim to create meaningful new connections, relationships and a peer-to-peer network.
Autonomous Learning: Learning, sharing and acting upon customers' preferences to inform future travel recommendations and experiences throughout the travel lifecycle.
Emirates Enthusiasts: A select group of Emirates advocates ("Globalistas") who have vast knowledge of our destinations, regularly contribute content and offer advice and recommendations to other customers.
***
STAGE 2: SELECT & BUY
Goal: Deliver a personalized, configurable and accommodating experience to establish the foundations of success for the customer's journey.
KEY EXPERIENCE POINTS

EXAMPLES
Simplified T&C's: Sets of terms & conditions designed to be read in one minute, 5 minutes and 10 minutes depending on the customer.
Single point, end-to-end experience management: Complex itineraries and passenger needs can be operated and managed through any channel.
Reasonable amendments: Customers allowed to make a limited number of minor amendments to bookings without incurring penalties (e.g. correcting name misspellings).
Pay-as-you-go: All services available to enhance the experience at any point of the journey.
Make it up: Thoughtful gestures at point of delivery to acknowledge/compensate for previous poor performance ("Mr. Jones, here is the special meal you ordered, I trust we got it right this time?")
Pre-issued tags and passes: Boarding passes and vouchers issued at time of purchase, where possible.
***
STAGE 3: ANTICIPATION
Goal: Build anticipation and improve compliance through engagement, broadening horizons and forming connections with the brand, other customers and destinations.
KEY EXPERIENCE POINTS

EXAMPLES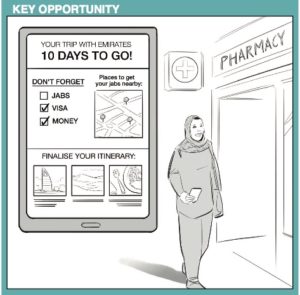 Visual itinerary: Visualized itineraries and T&C's to better inform customers, manage expectations and improve customer performance.
Countdown checklist: Visas, inoculations, money, flight info, check-in details, electronic/plugs and baggage. Tailor for group travel and pre-trip bonding.
Emirates Experience Configurator: An online configurator that allows passengers to explore, select and book Emirates pre-, in- and post-flight experience options.
Digital orientation: Support customers in orientating themselves before the trip, with overviews and information about journey stages and preview videos of airports and destinations.
Secret holiday: A travel experience that starts as soon as a customer purchases a ticket. An Emirates product designed to entertain customers all the way up to their flight by continuously drip feeding them small bits of content to build suspense and excitement.
***
STAGE 4: LUGGAGE DROP & COLLECTION
Goal: Free up customers as soon and for as long as possible to make their journey easier and less stressful, and provide more opportunities to satisfy their needs and desires.
KEY EXPERIENCE POINTS

EXAMPLES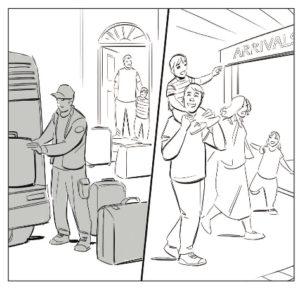 Smart tags: GPS-enabled luggage tags enable customers and Emirates to know exactly where luggage is at any time.
Collection & delivery: Paid-for and partner services allow passengers to hand over or receive their luggage at the point of departure and destination.
Remote check-in: Main luggage can be dropped off at remote locations prior to travel, allowing passengers to arrive and travel with hand luggage only.
Facilitating and rewarding "light" travel: Rewarding customers for traveling lightly, rather than penalizing for heavy baggage. Offer rental services and options to purchase basic necessities at destinations (e.g. stroller rental).
***
STAGE 5: TRAVELING TO & FROM AIRPORT
Goal: Take more responsibility for the end-to-end journey through affordable (or complimentary) hassle-free, convenient and on-brand door-to-door transport solutions.
KEY EXPERIENCE POINTS

EXAMPLES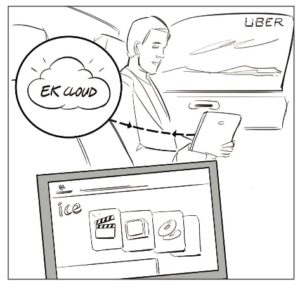 Emirates limo service: A VIP door-to-airport and airport-to-destination Emirates-delivered free service for first and business class passengers.
Uber partnership: Flexible and convenient subsidized or paid-for door-to-airport and airport-to-destination taxi service for economy passengers.
Emirates Cloud: A cloud-based service allowing customers to access Emirates-owned and third-party content anytime, anywhere.
***
STAGE 6: WELCOME
Goal: Deliver instant recognition and acknowledgement, personalized receptions and orientation without interrupting the passenger's journey.
KEY EXPERIENCE POINTS

EXAMPLES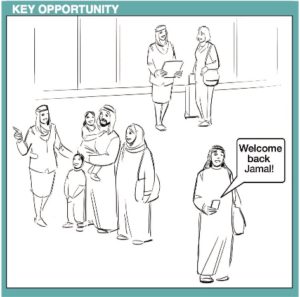 High-speed connectivity: Customers automatically connect to high-speed Emirates networks to benefit from digital travel services & access content.
Receptionist algorithms: Pair most appropriate staff to arriving customers. Staff use tablets to identify, verify and finalize any outstanding customer matters.
Silent airport personal guide: All announcements are made through personal devices (headphones, wearables) so you only hear what's relevant to you and the airport environment becomes a calmer place.
Emirates Lens: Augmented reality layer that makes generic outstation airport experience feel like an Emirates experience offering way finding and contextual hints and tips.
***
STAGE 7: IN THE AIRPORT
Goal: Deliver rich, experiential, immersive and personal experiences that enable customers to get the most from their time at the airport.
KEY EXPERIENCE POINTS

EXAMPLES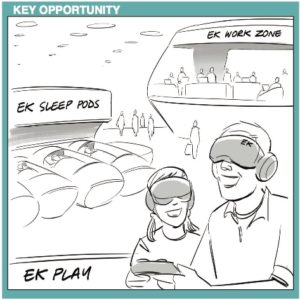 Virtual lounges: Emirates hotspots allow all customers to be able to log in using their boarding passes to access Emirates ICE content anywhere in the airport.
Themed lounges: Physical themed spaces located in Emirates focus airports. These are based around work, rest and play (e.g. Disney lounge for kids).
VR Experiences: Immersive technology enabling personalization of the local experience, tailored to specific interests like heritage or shopping.
Emirates Bridges: Location-aware social network for opted-in business professionals that work on ground or in-flight.
***
STAGE 8: BOARDING & RECEPTION
Goal: A smooth, seamless flow from "destination gates" to seats without concern for any outstanding issues or unfulfilled promises.
KEY EXPERIENCE POINTS

EXAMPLES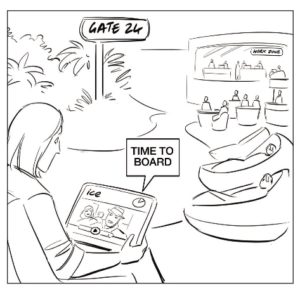 Complete tracking: RFID-enabled aviation ecosystem providing real-time location information of all objects and individuals.
Pre-flight ICE: Customers can begin to explore and enjoy personalized ICE content through personal devices, and the experience continues seamlessly onto the aircraft.
Pre-door resolution: Using a single customer view and on-the-spot resolution from empowered staff, all outstanding customer issues are resolved prior to boarding.
***
STAGE 9: IN THE AIR
Goal: Delivering a consistently personalized, interactive and immersive experience that ensures the flight enriches and does not interrupt passengers' lives.
KEY EXPERIENCE POINTS

EXAMPLES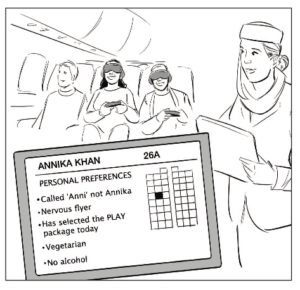 Experience zones: Seating zones to optimize experiences, enabling processes to be streamlined and removing conflict between different customer needs.
Recommendations: Captured customer activity is used to recommend products and optimize preferred customer experiences.
KIS Plus tablets: All crew equipped with KIS plus tablets to deliver a tailored and personal service while optimizing delivery.
Continuity: A seamless continuation and integration of pre-flight virtual products and services allowing customers to pick up the experience where they left it last.
***
STAGE 10: LANDING & HANDOVER
Goal: Deliver a seamless and uninterrupted transition from flight to airport preparing customers for their onward journeys and providing proactive support for those who need it.
KEY EXPERIENCE POINTS

EXAMPLES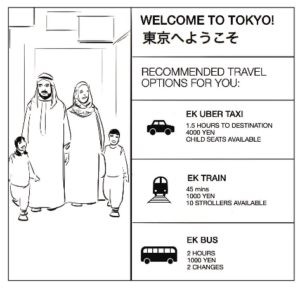 Emirates Care: Proactive communication of flight changes and electronic delivery of new boarding passes and instructions.
Emirates travel menu: A collection of Emirates destination-onward travel options provided directly by Emirates, through on-brand partnerships with local transport providers.
***
STAGE 11: TRANSFERRING & STOPPING OVER
Goal: Help customers on the next step of their journey by maintaining recognition and responsibility, providing inspired services and tailored, proactive support.
KEY EXPERIENCE POINTS

EXAMPLES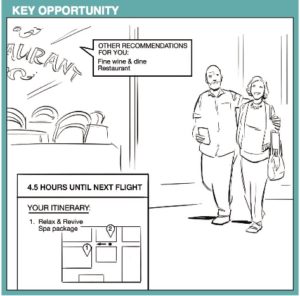 Smart screening: Avoid re-screening for low-risk passengers, connecting them instead directly to the concourse and lounges.
GPS location services: Location-aware software tailors airport services, flight information and wayfinding via mobile/interactive screens.
Continued ICE: Customers are able to stay connected to ICE while transferring and throughout the stopover.
***
STAGE 12: ADVISING & RESOLVING
Goal: Deliver real-time, first-time, omnichannel service recovery.
KEY EXPERIENCE POINTS

EXAMPLES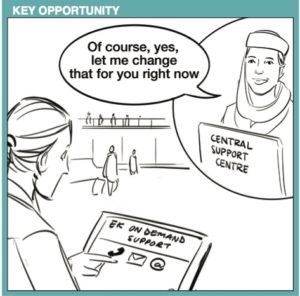 Emirates Connect: A platform which connects customers to customers and staff to customers based on shared interests, language and past experiences to resolve issues, seek advice and learn.
Accessible service records: All staff can see historical or ongoing service recovery issues to better inform decision-making.
Self-service Top 10: Virtual tools help customers preempt, track and manage service recovery on their terms (e.g. baggage tracking).
Proper Tweetment: Tweets of distress can be acted upon in real-time by alerting a staff member at the scene.
***
STAGE 13: STAYING CONNECTED
Goal: Resonating with customers and championing a cause throughout and beyond their travel experience.
KEY EXPERIENCE POINTS

EXAMPLES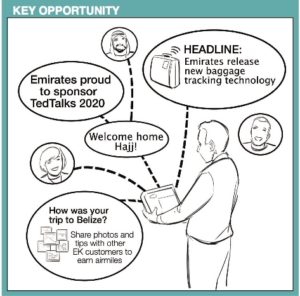 Emirates account: Offer a subscription based travel proposition managed through customer accounts. Customers can earn credits for travel based on various engagement mechanisms, partnerships, etc.
Interactive Globalista channel: A dedicated channel which shares stories about existing customer and staff travel experiences, destination cultures and reveals unobvious and cool things that are happening in the world.
Globalista gauge: An application that allows people to check into places, share experiences with others to earn Globalista points and unlock rewards. Links to Globalist community, Skywards and Emirates enthusiasts.
***
THE RESULT
DIGITAL ENGAGEMENT (PHASE 1) & SOURCING FOR FUTURE PHASES
The result of our design process was the introduction of a new end-to-end passenger experience and a road map to keep Emirates ahead of the technology curve through 2020. While some approved aspects of our plan were to become long term development projects, we were able to see some rolled out immediately.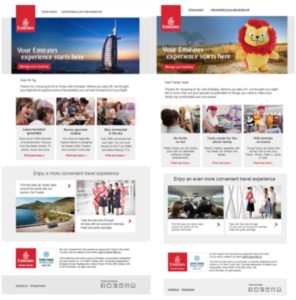 In one of our new passenger stages—Anticipation—we were able to work with our digital marketing team to quickly roll out a digital engagement program to fill existing communication gaps and upsell relevant products and services.
***
THE IMPACT
EARLY RETURNS AND "HELLO TOMORROW"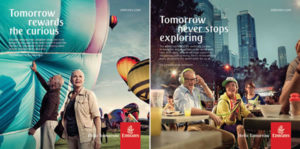 The earliest rollouts from our experience redesign helped to curtail Emirates' growth decline, generating increases in passenger numbers and revenue. Our new onboarding email program generated USD $14 million in the first six months in just 30 test markets. Our project also spurred the creation of a new department—Innovation—to oversee delivery of the complete plan over the next four years (and fit in nicely with the brand's Hello Tomorrow marketing campaign).
There were certainly other factors outside of the scope of this project that impacted the following, but checking back after a year from our initial experience design rollout revealed the following:
PASSENGER EXPERIENCE SCORES IMPROVED BY AN AVERAGE OF 12%
CUSTOMER COMPLAINTS DECREASED BY 9%
FLOWN PASSENGERS INCREASED BY 8%
NET PROFIT INCREASED BY 7%